Sangfor's Endpoint Security Overview
Pre-Attack
Prevention
Endpoint Discovery & Unified Endpoint Management
Vulnerability & Patch Management
Configuration Baseline Check
During Attack
Passive Detection
Signature-Based Detection (Traditional AV)
Behaviour-Based Detection (NG-AV)
AI & Machine Learning (NG-AV)
Sandboxing (NG-AV)
Active Protection
Micro-Segmentation
Ransomware Honeypot
Two-Factor Authentication
Brute-Force Attack Detection
Post-Attack
Residual Threat Detection
Forensic Analysis
Threat Correlation & Visualization
Endpoint Secure Product Advantages
Full End-to-End Protection
Endpoint Secure delivers end-to-end protection to secure endpoints before, during, and after attacks: prevention mechanisms mitigate risks and vulnerabilities pre-attack, active and passive detection mechanisms identify and block threats during attacks, and remediation mechanisms eradicate residual threats and support forensic investigation post-attack.
Multi-Layered Lightweight Detection
Endpoint Secure leverages multiple powerful malware detection engines to provide rapid and precise threat detection. It has been awarded maximum points for its detection capability by AV-Test for 3 consecutive years. More importantly, its detection engines are lightweight and friendly on system resources, ensuring users can go about their work with near-zero interference.
Synergy with Network and Cloud
Endpoint Secure integrates with Sangfor NGAF, IAG, and Cyber Command to enable advanced and coordinated threat detection and response. Threat correlation between endpoint, network, and cloud makes it possible to detect sophisticated threats that are missed by point solutions and produce an integrated evidence chain to streamline post-attack threat hunting and weakness remediation.
World-Class Malware Detection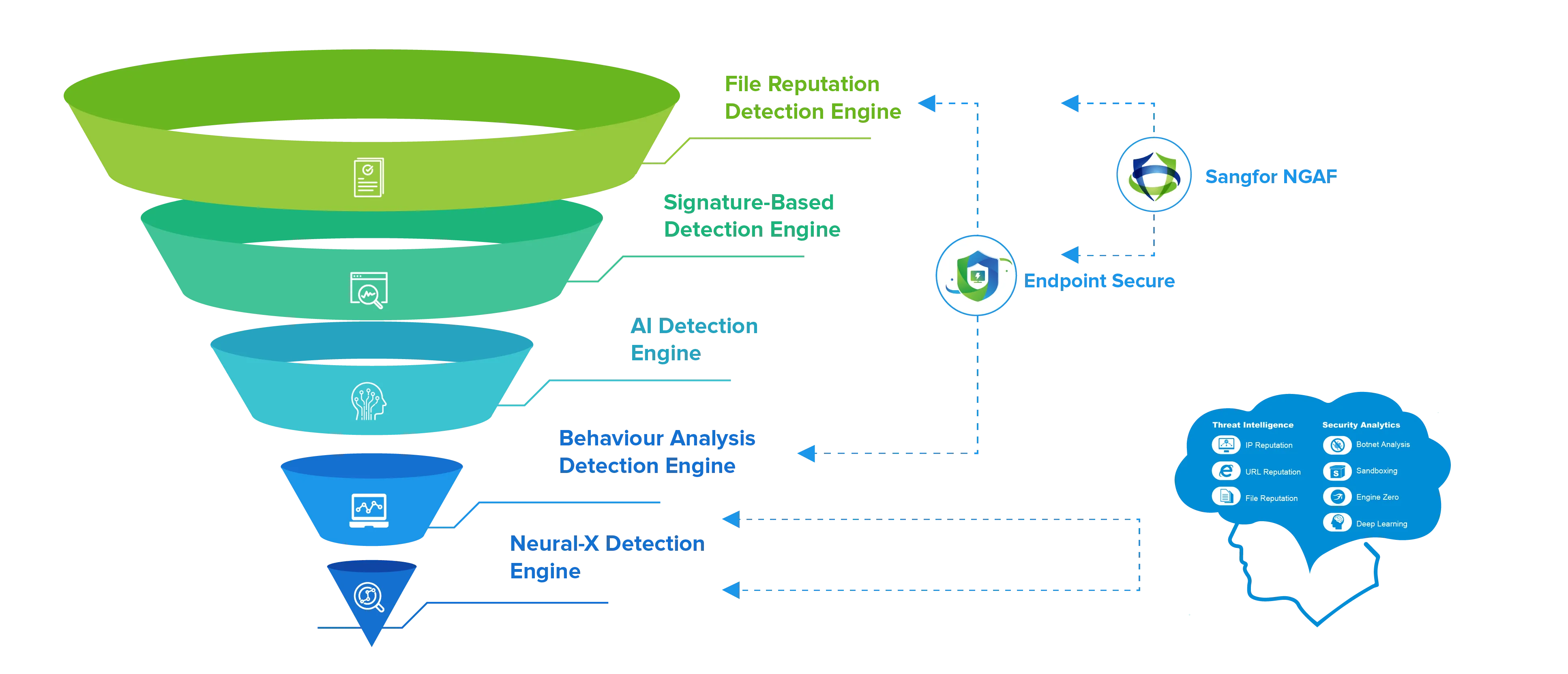 Awards & Achievements