Defensys is a cybersecurity solutions vendor from Singapore. Since 2011, the company provides the whole product ecosystem that helps companies to withstand modern cyber threats and ensure reliable security management worldwide. Defensys's technologies are used in telecom companies, banks, governments, oil and gas companies, and energy and metallurgy companies.
Defensys's ecosystem consists of 6 technologies seamlessly interconnected between each other that automate different cybersecurity processes:
SGRC is a core solution of the ecosystem – a software platform for centralized cyber security management that helps to control compliance procedures of the company and automates the cyber risk assessment. It has very wide integration capabilities to process all the useful data from already implemented systems and tools to use it then in high-level cyber security management processes. Thus the Defensys SGRC can be complemented either with all the modern required technologies from Defensys's ecosystem or use those from the customer's pool.
ACP is the platform that aggregates all the useful inventory data from a lot of systems of the company in one place without any duplicates and can be used as a master source of information about assets.
SOAR is the solution for building Security Operation Centers and automating its procedures like incident management, response processes, coordination of the SOC team and others.
TIP is the specialized cyber threat data management platform that complements SOAR with threat intelligence processing features. Indicators of compromise are aggregated, delivered to security tools and monitored in raw logs to prevent potential destructive actions in the infrastructure.
SENSE is the product that combines the capabilities of classic SIEM and UEBA systems in order to use behavioural analytics algorithms to forecast suspicious actions in advance.
TDP is a comprehensive all-in-one tool for digital infrastructure simulation designed to proactively detect and prevent cyberattacks.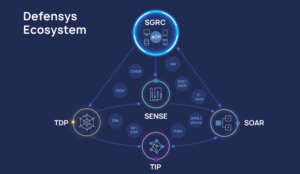 Working together in the ecosystem these technologies deliver comprehensive cybersecurity department automation, reduce time spent on routine and help cybersecurity managers properly evolve all the needed processes with a lot of useful metrics and reports generated; As an option, the customer can choose the partial implementation of Defensys's ecosystem.
Furthermore, the Defensys company has its own Center of expertise with professionals who support every implementation project from the vendor's side along with certified partners to guarantee the high quality of the result.