Why Use SpamTitan
KNOW MORE ABOUT SPAMTITAN
SpamTitan is an award winning Anti-Spam solution that is tried and tested. SpamTitan's performance is externally validated each month and it consistently features as one of the best catch rates for Anti-Spam solutions from a host of market leaders. SpamTitan has a complete feature set that suits any size business as well as a whole range of features designed specifically for service providers who offer Antispam services to their customers.

Why choose SpamTitan Private Cloud?
KNOW MORE ABOUT SPAMTITAN
Make life easier for your IT department and everyone in your organization who has an email inbox. Simplify your email risk management with SpamTitan Private CloudClick edit button to change this text.
Quick, easy deployment, configuration and management.

Easy to get set up, simple to configure, up and running same day.

Low maintenance overhead, fully automated updating and end user spam management.

Web interface that allows controlled access form the network and removes the need for client based management software.

LDAP, Dynamic and aliases file recipient verification.

Full version available in 11 languages.

No Operating System Requirements.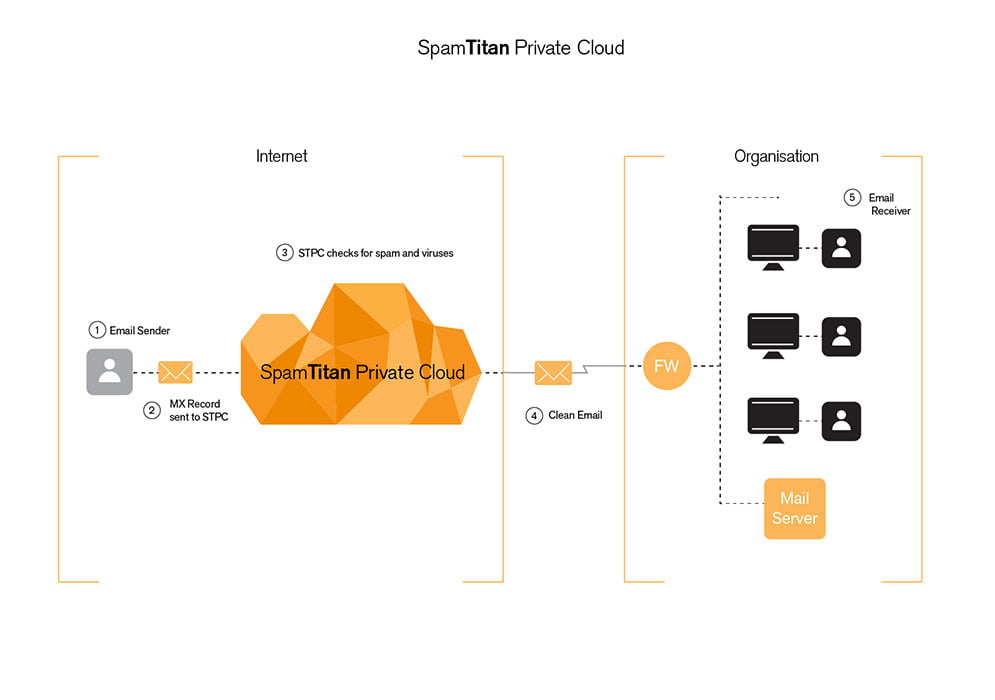 Ideal for Service Providers
KNOW MORE ABOUT SPAMTITAN
ISPs and MSPs rely on SpamTitan to protect thier customers from spam and malware, without having to maintain servers or infrastructure in house. SpamTitan Private Cloud gives you all of the benefits of SpamTitan with virtually none of the technical overheads. Rebrand SpamTitan Private Cloud, or simply fold it invisibly into your service offering – the choice is yours.
Manageably Scalable
Unlimited users, unlimited domains.

Multi-level administration (user, domain, groups of domains etc.)
Rely on our robust cloud infrastructure
SpamTitan 'Private Cloud' – dedicated email security in our data centres.
Rebrand (White Label) and Integrate (API) into your infrastructure
Extensive API set for integration with 3rd party management products.
Protects your network from rogue or hacked customers
Clustered – across geogrpahies if required.

Advanced features for outbound mail scanning and routing.
Many solutions were simply cost prohibitive while those that were within our budget would not scale to our needs. SpamTitan offered exactly the right combination of price and performance.