Data Loss Prevention (DLP) Solution
We provide a Data Loss Prevention (DLP) suite topped by the complete prevention from all threats originating from human activities.
Data Loss Prevention (DLP) Solution
KNOW MORE ABOUT Data Loss Prevention
To provide security of computer data from hackers, normal computer failure or user error, data protection is a must-have tool to provide businesses peace of mind. Data protection backs up data from the host to the destination while providing information security.
Similar in nature to data backup software, data protection software targets privacy and security. The software is installed on every device that is in need of data leak protection and backup. Basically, data protection protects the rights of the company and all of its information.
Data Leak Protection is put into play to safeguard their sensitive information. An encryption program is the key player in doing just that on both the physical and virtual level. It keeps businesses in control of their own information.
Data Leak Protection and security should definitely be a priority for businesses of all shapes and sizes.
Data Loss Protection and backup gives businesses the capacity to enforce offsite storage meaning no boxes and cabinets filled with private information sitting within units just waiting to be lost or destroyed. The more often data exchanges hands, the more unknowingly susceptible it is to theft.
To protect your companies valuable information assets such as account numbers, private and sensitive documents and anything else that is considered private, data protection is the upmost priority in security solutions. It is also another line of defense against malware attacks, identity thieves and any other shadow lurking in the dark corners.
Backup software encrypts and sends data to a specified center which adds to another layer of security and protection. Technology is growing and its users take things for granted which can prove dangerous in todays world of hackers and pirates. Because most people use the internet to send and receive information, chances are the delicate information can be hacked. Which is why encryption proves to be an ever-growing importance for security and peace of mind in businesses as well as for personal use. Data encryption allows the user to protect their valuable and personal information that is being sent across the Internet, making it difficult for anyone else to gain access to.
In business and personal life, the importance of information protection is an ever-growing concern. As the Internet evolves, so do the hackers ways and means. That's why it's of upmost importance to have a Data Protection Solution in place.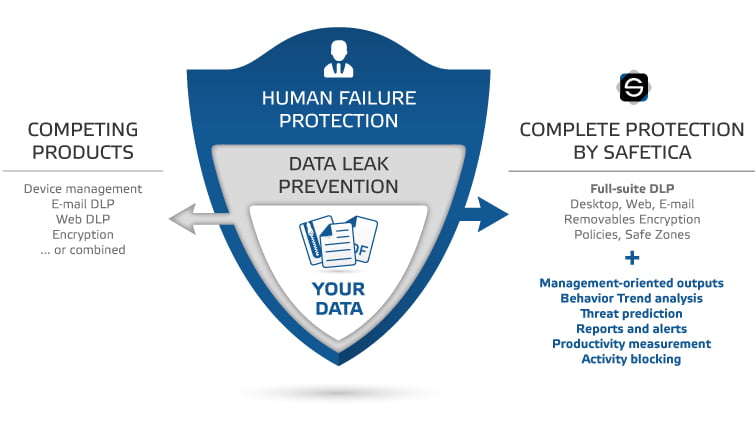 Solutions ABS-MENA Provides
We are proud to offer Data Protection Solutions from Safetica, a trusted name in Data Protection Solutions software. They are a leading force in protecting companies against human error both accidental and malicious, which secures companies from expensive data leaks and staff costs.
Safetica is a complete internal security solution which brings a paradigm shift to understanding the threats facing companies. While others talk about data and data-centric security, we know that data can't run away from a company by itself.
Safetica goes a level higher to focus on the source of these threats and behind every action is a human being. Safetica provides a Data Loss Prevention (DLP) suite topped by the complete prevention from all threats originating from human activities.
Request Data Loss Prevention (DLP) Solution Demo